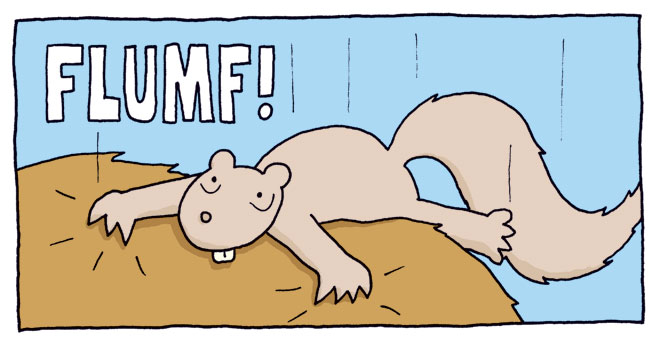 For the past month or so, I've been putting the finishing touches on Laser Moose and Rabbit Boy: Disco Fever. Last week, I got some final questions from Jean, my editor – and one of the questions that I thought was pretty fun was about my use of "Augh!" and "Argh!" in the new book.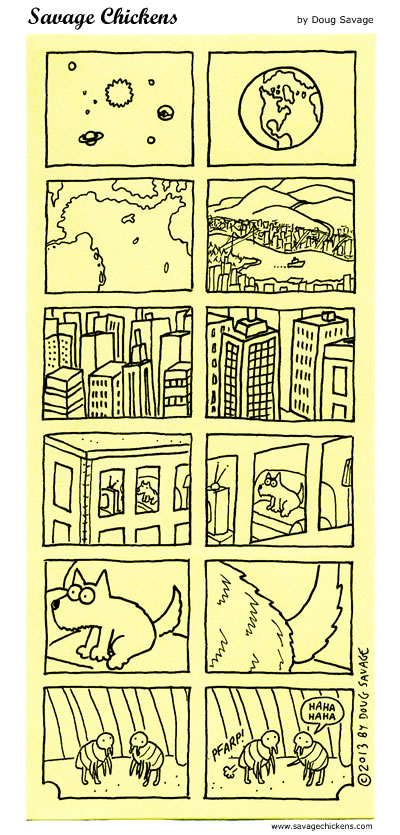 It was something I hadn't thought about before. How do I use those words? I looked into it and was surprised to discover that I use Augh and Argh fairly consistently in my comics. To my ears, "Augh" is a scream – usually involving fear or pain. "Argh" is more of a yell, and I associate it with anger and frustration. They're both made-up words, of course, but this is what they mean to me.
This got me thinking about all of the weird sounds that we regularly use in comics. There's no comic dictionary out there providing standards for all of the Aughs and Arghs and Zaps and Pows, so we just have to figure it out for ourselves. If you need to know how to spell the sound of a tomato hitting a car windshield, for example, you have to figure out all by yourself that it's "Splufsh!"
I looked through my comics and found some of my favourite sounds:
Pfarp! – My favourite fart sound.
Brap! – My favourite belch sound.
Thwack! – A smack in the face.
Ponk! – Punching a robot.
Gak! – Coughing up a hairball.
Mmf! – Physical effort.
Schluck! – Popping in a contact lens.
Foosh! – Shooting flames.
Plurp! – A bird pooping.
Pffff! – Spitting water out.
ZZZT! – My preferred laser sound (better than FTOO!)
I'm stepping up my sound effects game in the new book. In addition to the above Flumf, you'll see: Thup! Screee! Shflunk! Pssh! Shtook! Glub! Splorsh! And Glurp!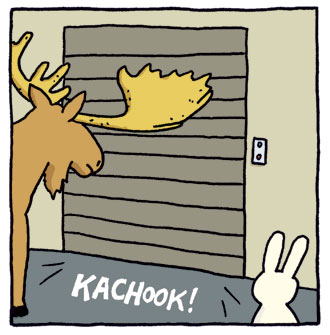 And now I'm finding myself watching out more for sound effects when I'm reading other people's comics. I was very excited to discover a "Hurkk!" in my friend Jason's new graphic novel, Fir Valley!
What's your favourite sound effect?