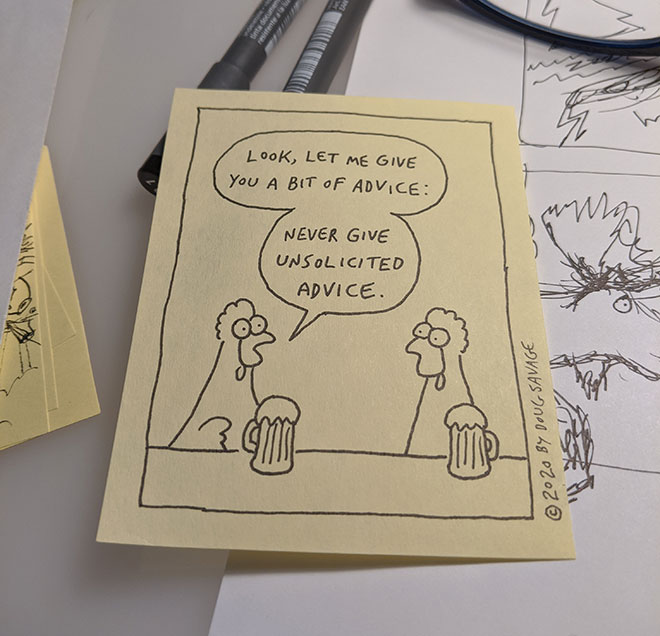 Today I reached a huge milestone on Savage Chickens: I drew my 4000th Savage Chickens comic. This got me thinking about the last 15 years of cartooning, and here are a few thoughts about that (and a bit of unsolicited advice!)
I started drawing because I was miserable. I was a creative person with no creative outlet in my life. When my migraines persisted, I reached out to try more creative things. One of those things was picking up a pad of post-it notes and drawing chickens. It completely changed my life.
Fifteen years ago, I had zero creative output. My story could have ended there. But thanks to cartooning, I've had so many adventures instead. I'm now connected to a community of fellow creators, both online and in person, who are wonderful and inspiring to be around. I've been a special guest at several comics conventions, where I've had the chance to meet so many of my wonderful readers. I've visited schools to talk to the next generation of potential cartoonists, and it's been so great to hear from parents and teachers that my talks have inspired their kids to create their own comics. I'm working on my fifth book, to be published in fall 2021. And somehow I've drawn 4000 comics. Sometimes I look around and wonder how all this happened, and then I remember: oh yeah I made stuff and then I kept making more stuff!
If you're a creative person (and I think we all are, in our own ways), do me a favor: create something. Every week. Every day if you can. You have stories that are uniquely yours. Stories that only you can tell. The world wants to hear them!
And one more thing: thank you! Thanks to everybody who reads my stuff. I will be forever grateful for your support and encouragement!