Updated June 21, 2023: A new version of the meme has surfaced! But now it's just my words, combined with a new image and fancy font! The image is a painting called "Man in Top Hat Talking to a Woman", and it is by the celebrated 19th-century Spanish painter Ignacio Zuloaga y Zabaleta. I wonder what will happen next to this comic?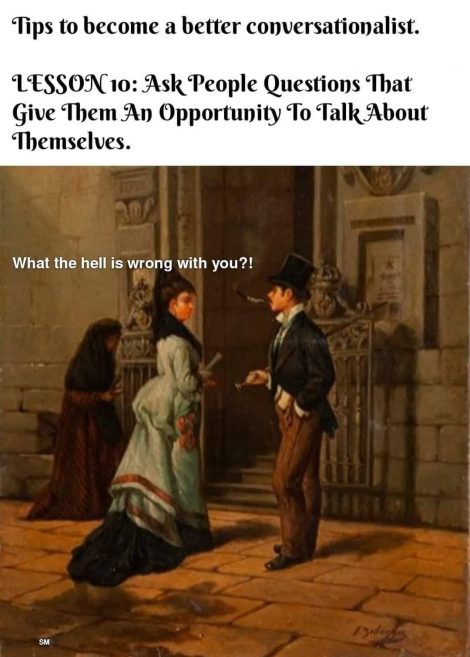 Original post:
Well this is a fun little milestone. I think this is the first time I've had to create a new version of a comic because it became a meme on the internet.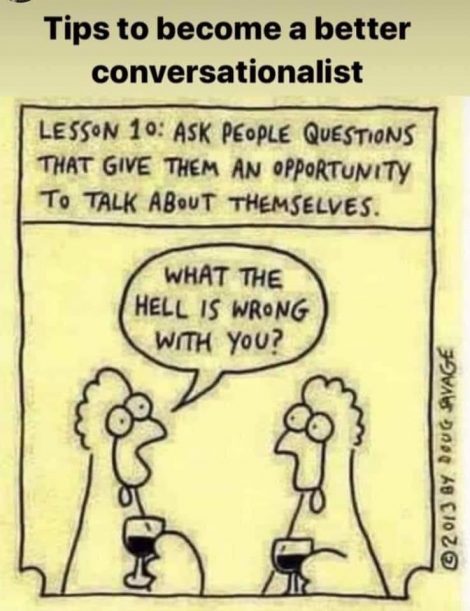 A few months ago, I started to notice an image from one of my Savage Chickens comics getting shared a lot on social media. Which is always a nice treat! It's fun to see what people like and share. In this case, somebody had taken the Lesson 10 panel from my 2013 series "The Art of Conversation" and added a meme headline to the top of it. This version really caught people's attention!
Unfortunately, the artwork was a bit scruffy-looking. It looks like the meme-creating person had to stretch the image to make it larger, and they lost some detail in the process. Artwork quality aside, I was still very happy to see that people enjoyed the joke and were sharing it everywhere. And I REALLY appreciated that my name wasn't cut from the image, which made it much easier for people to find the rest of my work.
But then I started to get people asking me about using the comic in presentations. They had clearly discovered the image via the meme, but I didn't want them using the scruffy low-quality meme version!
So I created two new versions: one with the original headline of "The Art of Conversation", and one with a somewhat-edited version of the meme headline, for people that like the meme version better. Here they are…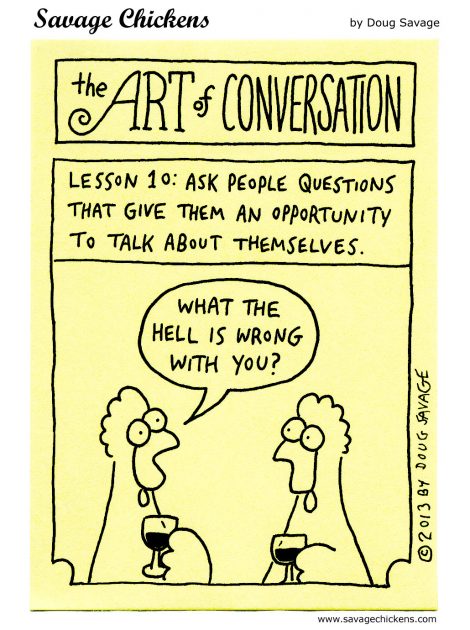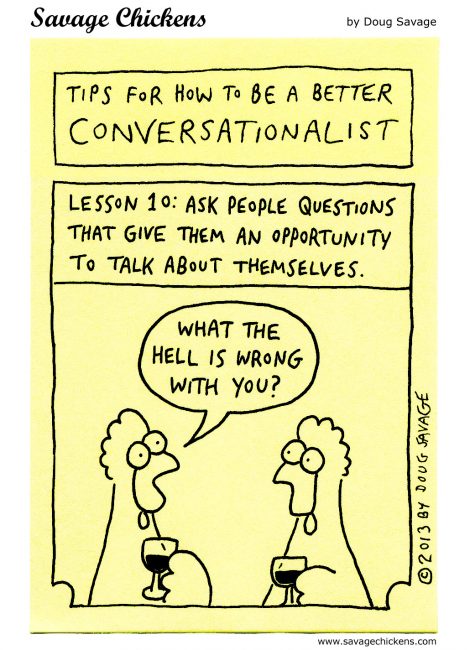 I think it's pretty fun that I had to remake a comic because it took on a life of its own online. Thanks for the collaboration, internet!
P.S. Feel free to share whichever version you like best on your social media (and, of course, I always appreciate it if you can link back to me when you do) 🙂
(This topic originally posted on Jul 21, 2021.)