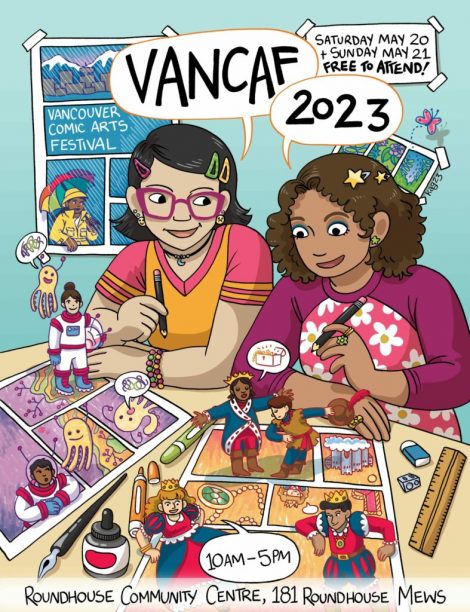 This weekend, I'll be at the Vancouver Comic Arts Festival here in unusually sunny Vancouver. The event is on Saturday May 20 and Sunday May 21, from 10 AM to 5 PM, at the Roundhouse Community Center. It is FREE to attend!
For most of the weekend, you'll find me sharing Table D9 with the talented Claire Lordon, but here's a detailed look at my schedule…
FRIDAY, MAY 19
7 PM: I'll be kicking off the weekend with the Vancouver Comic Jam, at the 12 Kings Pub. If you want to draw comics with me, come out for a beer or two! Here are the event details on Facebook.
SATURDAY, MAY 20
10 AM – 2:30 PM: You can find me at Table D9 (See the map!), where I'll be signing Laser Moose books and drawing free post-it drawings for kids.
2:30 PM – 3:30 PM: I'll be in the Roundhouse Performance Centre, hosting a panel discussion called "Creating Comics for Audiences of Every Age" – featuring these amazing creators: Claire Lordon, Dan Santat, Kathleen Gros, and Mike Holmes. For more cool panels, check out the event schedule.
3:30 PM – 5 PM: Back at Table D9.
SUNDAY, MAY 21
10 AM – 5 PM: I'll be at Table D9 all day. Come get a book before I run out!