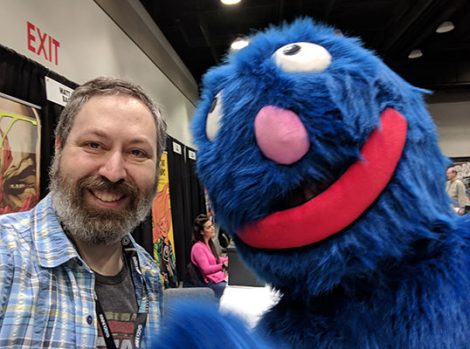 I'm returning to Fan Expo Vancouver this year, and it will be my first local convention since Time Trout came out – so now's your chance to get a signed copy, Vancouver people! The show is from February 15-17.
Here's what my schedule looks like:
Saturday, February 15
10 AM – 3:30 PM: I'll be in the Creator Guests section (around the edges of Artists Alley), at Table A08 (a.k.a. P08 on the map below)
3:30 PM – 4:00 PM: "Meet Laser Moose Artist Doug Savage" in the Family Zone
4:00 PM – 7 PM: Back at Table A08
7 PM – 10 PM: Book launch for Tartarus and Protector. In between Fan Expo and the comic jam, I'm hoping to swing by 8th Dimension Comics for the release of two new groundbreaking comics, Tartarus and Protector, by my friends Johnnie and Simon, respectively.
8 PM – 12 AM: Vancouver Comic Jam. Me and a bunch of other artists will be at the Vancouver Comic Jam at 12 Kings Pub on Saturday night. Come draw with us!
Sunday, February 16
10 AM – 5 PM: Back at Table A08, signing books and doodling on post-its!
Monday, February 17
10 AM – noon: At Table A08 again
Noon – 1 PM: in Theatre #1 (right behind my table): I'm in a panel discussion called Comics for Younger Readers! Fun for All Ages! with fellow comics creators Faith Erin Hicks, Troy Little, and Brenda Hickey.
1 PM – 5 PM: At Table A08