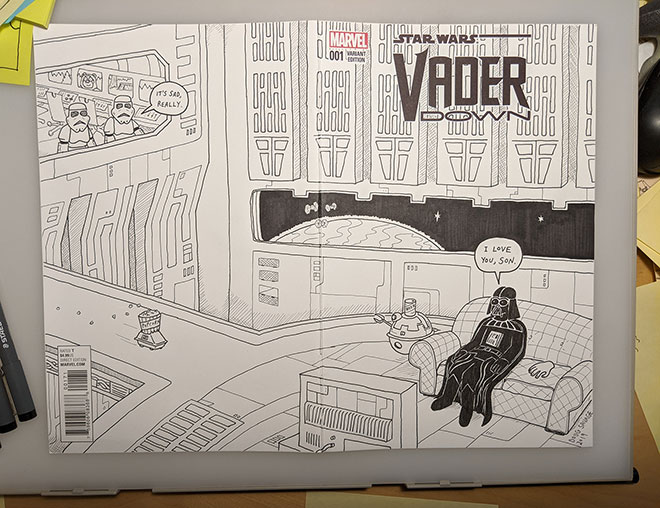 [Click here to see larger image.]
Just a quick post to let you know that I've drawn a "Vader Down" comic cover for tonight's Blank Cover Art Auction at 8th Dimension Comics in Vancouver (starts at 7 PM)! I've been meaning to draw something for this event for a couple of years now, so it's nice to finally contribute this year. Proceeds go to the Vancouver Food Bank.
When I saw the blank "Vader Down" cover, I immediately thought of Darth Vader feeling down in the dumps, which reminded me of this comic, naturally. This cover is a bit of a deleted-scene outtake from that comic, but with more detail than my usual work – which made it a lot of fun to draw! A few details that I particularly like:
The I-TO Interrogator droid being used as an end-table. (Thanks to Janet for suggesting this!)
The security footage of Endor on the screens behind the stormtroopers (including an ewok and the entrance to the shield generator bunker). This places the scene on the new Death Star, which means that Vader picked up Luke's hand at Cloud City and has been carrying it around for quite some time!
The chairs in that room are based on the chairs in the Death Star meeting room in A New Hope.
It's very rare for me to sell my original artwork. I think I've maybe done it five times in the past 15 years, so this is rare chance to get some original art from me. And there are a ton of other amazing covers in the show, so come on out and do some bidding if you're in Vancouver! 🙂