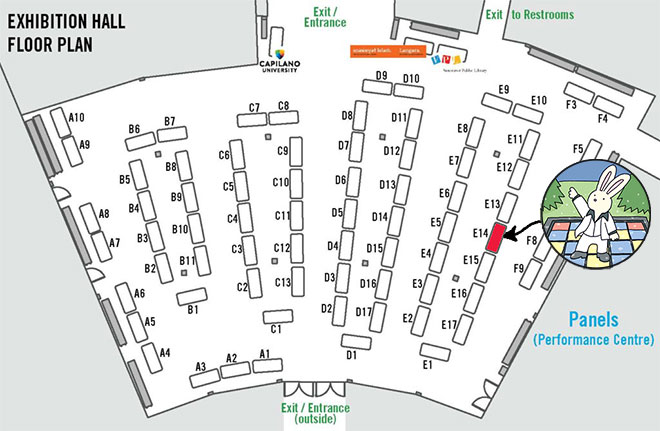 This weekend, I'll be busy busy busy at the Vancouver Comic Arts Festival. It's at the Roundhouse Community Centre, it's free admission, and it's on Saturday May 18 and Sunday May 19 from 10 AM to 5 PM. More details here on their website!
What will I be up to this weekend? So many things…
Friday, May 17
1:00 PM – 2:00 PM at the central branch of the Vancouver Public Library
This year, VanCAF and the Vancouver Public Library are having a new Comics Classroom day before the festival, and I'll be teaching a workshop on Writing Jokes for Comic Strips.
Saturday, May 18
10:00 AM – 5:00 PM: Table E14 in Exhibition Hall
7:00 PM – 11:00 PM: Vancouver Comic Jam
The first day of the festival, and I'll be at my table – E14 – pretty much the whole day. This year, I'm sharing a table with the talented Aidan Oliver-Graefe, and I'm surrounded by tons of other talented folks like Kazu Kabuishi, Kim Smith, Boya Sun, Gabe Ng, Sarah Webb, and more! So stop by our area of the Exhibition Hall, just outside the Performance Centre where the panel discussions will be.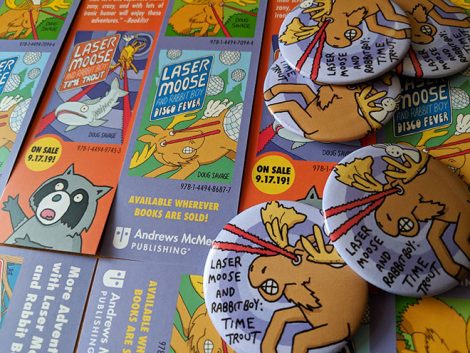 Oh and I'm giving away free stuff, thanks to my friends at Andrews McMeel Publishing. I won't have copies of Time Trout until September, but I'll have free Time Trout bookmarks and buttons!
In the evening, I'll be at the monthly Vancouver Comic Jam. Come on out to the 12 Kings Pub and draw comics with me and my friends!
Sunday, May 19
10:00 AM – 1:30 PM: Table E14
1:30 PM – 2:30 PM: Writing Comics for Kids and Teens panel discussion
2:30 PM – 5:00 PM: Back at Table E14

I'll be at my table again for most of the day, but I'll also be on a panel discussion in the Performance Centre at 1:30. Hosted by Steve Morris, the Writing Comics for Kids and Teens discussion features Faith Erin Hicks, Kazu Kabuishi, Tony Cliff, Mariko Tamaki, Ryan North, and me. A veritable Who's Who of kids comics!