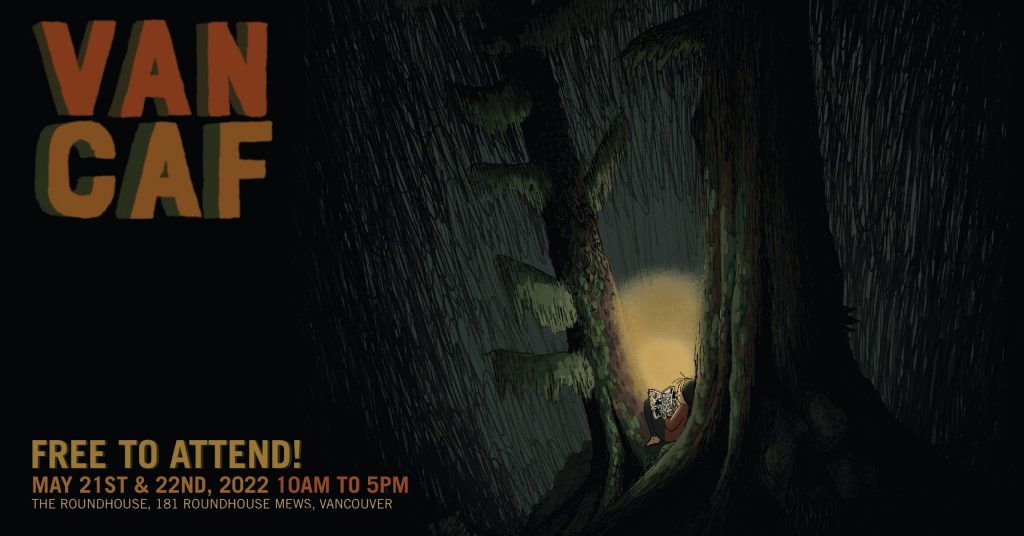 I have returned to Vancouver from my family visit in Ontario, just in time to appear at the Vancouver Comic Arts Festival! Looking forward to meeting readers, new and old – and I'll be signing copies of my latest Laser Moose and Rabbit Boy book, As The Deer Flies. And hopefully I'll have copies of the whole series of books (we'll see if I get my shipment from the publisher in time!)
Here's my schedule for the weekend…
SATURDAY, MAY 21
10 AM – 5 PM – I'll be at Table D8 in the Exhibition Hall, in between the entrance and the room where the panel discussions are being held. (See the map below!)
7 PM – 11 PM – I'll be at the Vancouver Comic Jam, back in our old digs at the 12 Kings Pub. Come out and draw with us!
SUNDAY, MAY 22
10 AM – 3:20 PM – I'll be back at Table D8.
3:30 PM – 4:15 PM – I'll be in a panel about making comics on the internet, called "Analytics This: The New Wave of Web Comics" – with my talented fellow panelists Adam de Souza and Becca Tobin. Hosted by the intrepid Jessica Delisle. More schedule details here.
4:20 PM – 5 PM – Last chance to get a book from me at Table D8!