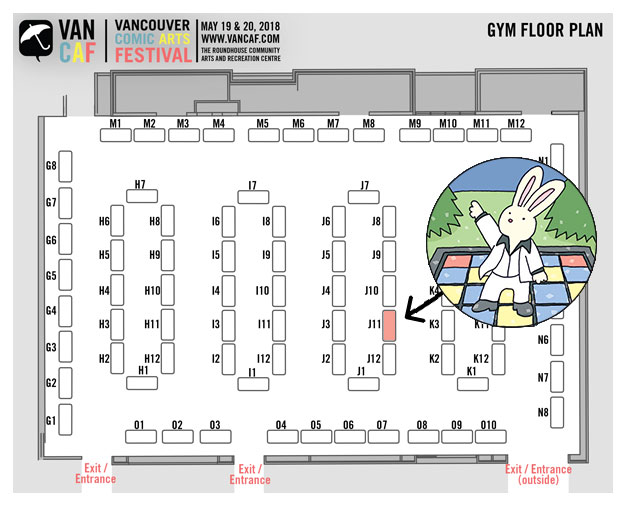 This weekend is the Vancouver Comic Arts Festival, at the Roundhouse Community Centre, on Saturday May 19 and Sunday May 20 from 10 AM – 5 PM. And wow it looks like it's going to be a good one this year. So many great artists!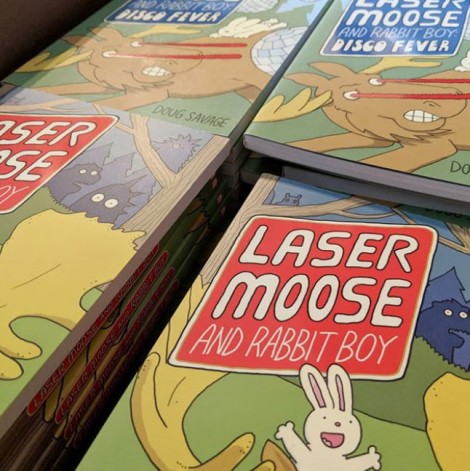 Stop by and say Hi – I'll be at Table J11 this year (see the map above), which I'm sharing with the talented Jonathon Dalton. And it looks like I'll be surrounded by great artists – just in my little section, there will be Claire Lordon, Kim Smith, Haley Boros, Vanessa MacLeod, Gabe Ng, and more!
I'm not hosting a panel discussion this year – I'm taking it easy because I'm in the middle of writing my script for the next Laser Moose and Rabbit Boy book.
But I will be helping out with the kids comic lessons. On Saturday morning at 10:30 AM, I'll be teaming up with Naomi Rubin to give kids one-on-one advice about drawing and creating comics. You can also find me at the Vancouver Comic Jam on the Saturday night if you want to draw with me or chat about comics over a beer or two!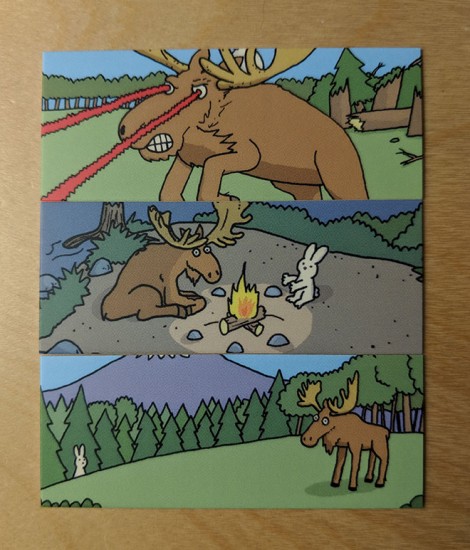 And, besides the festival and the comic jam, there are all sorts of other things going on this weekend, such as Sarah Leavitt's comics chat with Johnnie Christmas and Emily Carroll at the Central Branch of the Vancouver Public Library on Friday night. And there's more – check out the VanCAF events page for details!