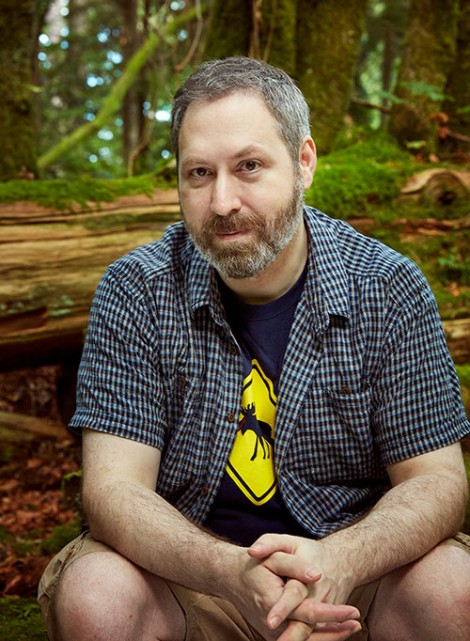 Hello! I'm Doug Savage. I used to be trapped in a cubicle of sadness, but I busted my way out and discovered my true artistic nature and now I'm happily doing all sorts of fun creative things.
I just finished my first graphic novel, Laser Moose and Rabbit Boy, about a moose who shoots lasers out of his eyes and his rabbit sidekick.
I'm also the creator of the popular comic Savage Chickens, which I publish every weekday on www.savagechickens.com (my archives appear on GoComics.com).
I feel extremely grateful for all of the creative projects in my life. I could have easily continued toiling away in my sad cubicle, but here I am, doing stuff that I love to do and loving every minute of it.
Press Kit
Interviews and Appearances
Want to interview me or invite me to your event? Give me a shout! Here's some of the things I've done in recent times:
Vancouver Comic Arts Festival 2016
Exhibitor and interviewer (with Lynn Johnston), May 21-22, 2016.
Vancouver Sun
Video interview, May 18, 2016.
Carded!
Group gallery show, Apr. 2016.
Vancouver Comic Arts Festival 2015
Exhibitor and panel discussion moderator (with Ian Boothby, Nina Matsumoto, Joy Ang, and Lucy Bellwood), May 22-23, 2015.
Unearthed Comics "Best of Webcomics" series
Interview, Jan 2015.
Where Monsters Dwell
Podcast interview, Dec 2014.
Hal-Con 2014
Special Guest, November 2014.
Hot One Inch Action
Group gallery show, Sept 2014.
Vancouver Comic Arts Festival 2014
Exhibitor and panel discussion moderator (with Kris Straub, Ian Boothby, and Angela Melick), May 24-25, 2014.
Meet Your Creator
Guest post on GoComics blog, May 2014.
Carded!
Group gallery show, Apr. 2014.
Comics Coast to Coast
Interview, Dec 2013.
Hal-Con 2013
Panelist (Webcomics panel), November 2013.
Emily-Con
Exhibitor and panelist, Emily Carr Art School comics show, Sept. 2013.
Working on the Web
Presenter, Opus Art Supplies, July, 2013.
San Diego Comic Con 2012
Special Guest, July 2012.
CBC Radio 3
Radio interview, March 2011.